A few weeks back, we've reviewed the Huawei MatePad. It's a great tablet to have for just about anything you can think of. While it's still hard to go out at this point in time, we can counter the boredom with our healthy digital activities. Maybe, you can even explore new hobbies with your new tablet!
Here's a quick tip: Maximize this smart gadget and have the Ultimate MatePad experience by exploring this list of new hobbies to try during quarantine:
Digital Journaling. Digital Journaling is one of the most effective and eco-friendly ways to reduce stress and anxiety. You can be relentlessly creative with your ideas while expressing your authenticity or telling stories about your achievements, interests, and daily encounters.
The MatePad is a great note-taking tablet as we've also experienced in our review. With this gadget, you can take notes anytime using the preinstalled Notepad app. With the help of HUAWEI M-Pencil, you'd be able to draw, write, or doodle casually. It offers a smooth experience like a pencil on paper. With ultra-low latency, the natural hand feel, and elegant style, the HUAWEI M-Pencil goes side by side with your creativity. Made by selected composite materials, it not only captures your writing strokes with accuracy but also ensures lasting reliable experiences for your day-to-day use.
Baking or Cooking. Today, we think everybody is learning how to cook or bake. In fact, when you browse your timeline, you would see that people are indeed crazy about how they "ube" everything and make cheesecakes. If this triggers curiosity in you, get your tablet as soon as you read this and make your HUAWEI MatePad a cooking tablet. Browse digital recipe books that you can find on HUAWEI AppGallery – Kitchen Stories, Recipe Books, and more.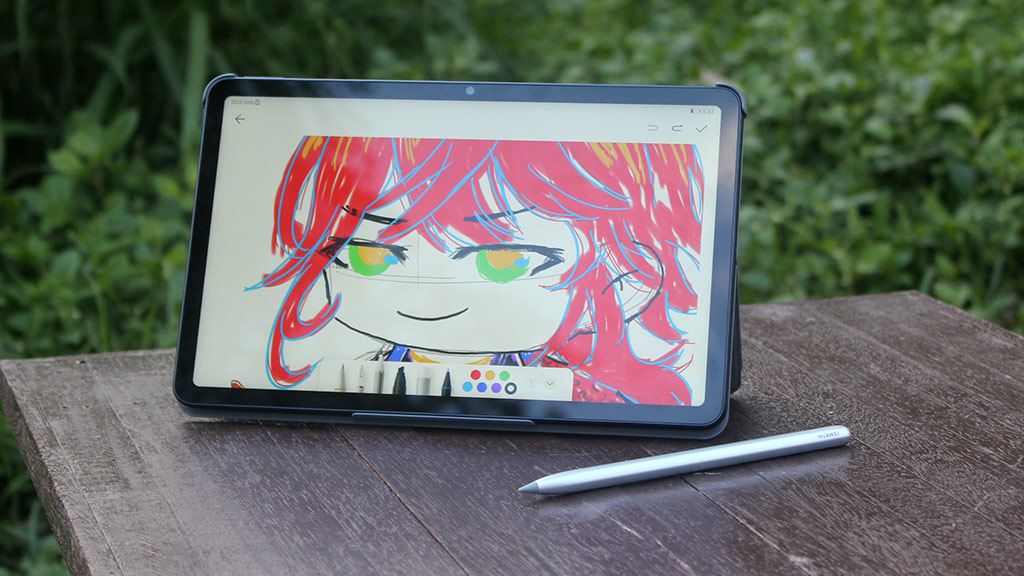 Digital Drawing. Art can help you cope with quarantine. If you want to relieve stress through the arts, you can start digital drawing as a hobby with HUAWEI MatePad and M-Pen. Self-expression through art is also a great and effective way to find compelling concepts that will nurture your growth as an artist. You can look for inspirations from news, e-magazines, or even social media platforms.
Learn a New Language. Learning a new language will indeed give a positive add-on to your professional and social background. Not only that, it will also help you prepare for your future travels abroad. Don't worry about the accessibility of these educational platforms because today, there are FREE learning apps for beginners that you can download. With your HUAWEI MatePad, you can find these apps on HUAWEI AppGallery – Lingokids – English for Kids, Learn Korean, Learn Japanese, Chinese – LingoDeer, Tandem Language Exchange: Speak & learn languages, and more.

Work Out. Even though pandemic deprived us of going out of the gym, nothing should stop you from achieving a healthy lifestyle. With HUAWEI MatePad you can watch workout videos on the YouTube browser or download apps with effective workout programs with minimal to no equipment. Some of the apps that you can download are Workout – Fitness at Home 2020, Home Workout – No Equipment, and more.
Now here's a sweet deal: Get the #BestMateForYou when you start your online classes and enjoy freebies worth up to P4, 407 from Huawei's #MatePadSuperDeals promo from Sept. 5 – 20, 2020. Buy a Huawei MatePad in stores worth PHP 20,990 and get the following perks with your purchase:
HUAWEI Band 4e worth PHP 1,390
HUAWEI MatePad flip cover worth PHP 990
15GB Huawei Cloud storage free for 1-year worth PHP 388
Huawei Video TVB 3 months free membership worth PHP 540
Huawei Video Mango TV 1-month free membership PHP 99
Coupon + gift package for Mobile Legends and Garena: Free Fire worth PHP 500 each
To know more updates and promotions, you can check Huawei's official Facebook Page. You can also join the Huawei Community for more benefits.