Huawei is more known for its smartphones and other accessories, but they are slowly foraying into making laptops. Such is the release of the Huawei MateBook X Pro, its most expensive laptop this year with a lightweight design, a 10th-generation Intel Core i7 chip, and a 56Whr battery capacity with fast charging support. Here's our full review.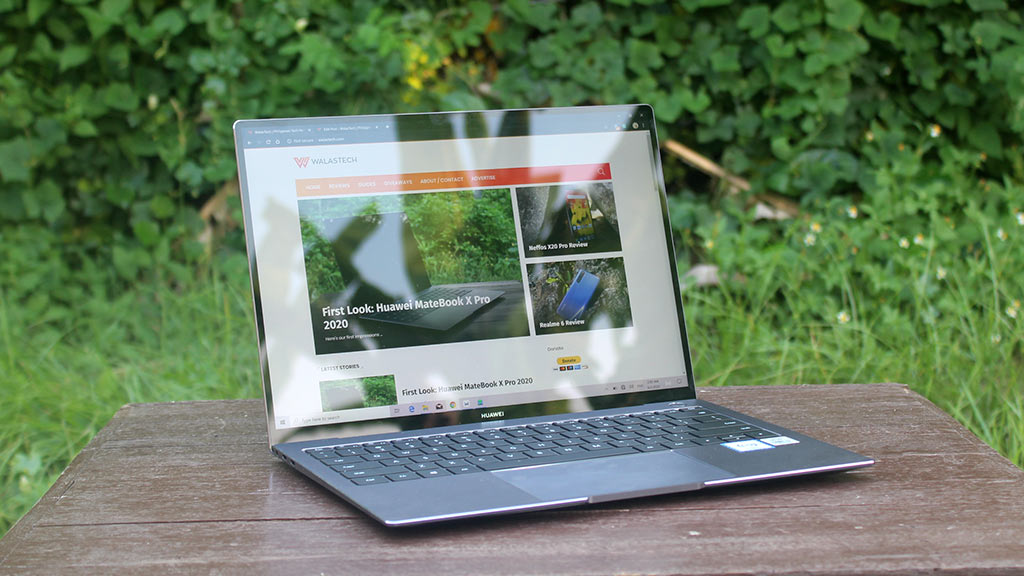 Huawei MateBook X Pro 2020 specs:
13.9-inch 2:3 touch display, 3000 x 2000 px
100% sRGB gamut coverage, 260 PPI, 450 nits
Intel Core i7-10510U
NVIDIA MX 250 GPU
16GB RAM LPDDR3 2133 RAM
1TB NVMe PCIe SSD storage
1MP Webcam
Quad digital microphones, Quad Speakers
Fingerprint scanner
Dual-band WiFi 802.11 AC, 2×2 MIMO, Bluetooth 5.0
1 x USB-C, 1 x Thunderbolt 3 (shared with charging), 1 x USB3.0 Type A
3.5mm audio jack
Huawei Share support
Windows 10
56Whr battery
65W charging support
Color: Space Gray
An all-familiar, lightweight design
Honestly, this laptop just screams quality all throughout. This Matebook represents Huawei's vision of a lightweight and thin, yet powerful, laptop while keeping the core features intact with its all-aluminum chassis. On the left side, we see the 3.5mm audio jack and two USB Type-C ports, with one supporting Thunderbolt and simultaneously acts as the charging port. The lone USB-A port is art the right, which supports USB 3.0 speeds.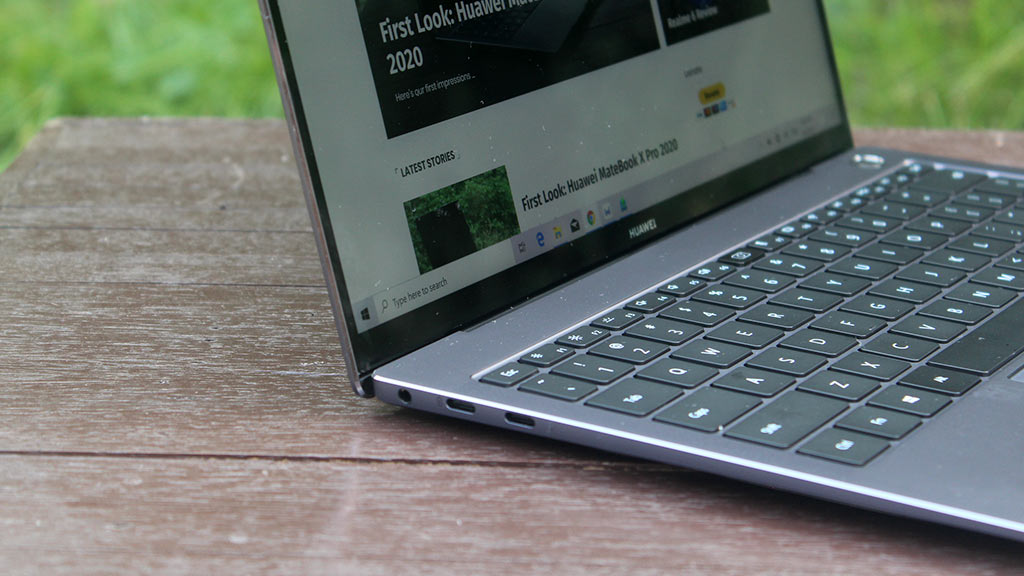 Opening the lid isn't hard as it can be done with one hand easily. Inside are the IPS display, the keyboard, four speakers (two under one grille on both sides of the keyboard) and the trackpad. The keyboard offers a chiclet-style design with full sizes, save for the function keys that were cramped to provide space for the camera that's placed at the upper-middle port, just between F6 and F7. The trackpad is graciously placed at the bottom.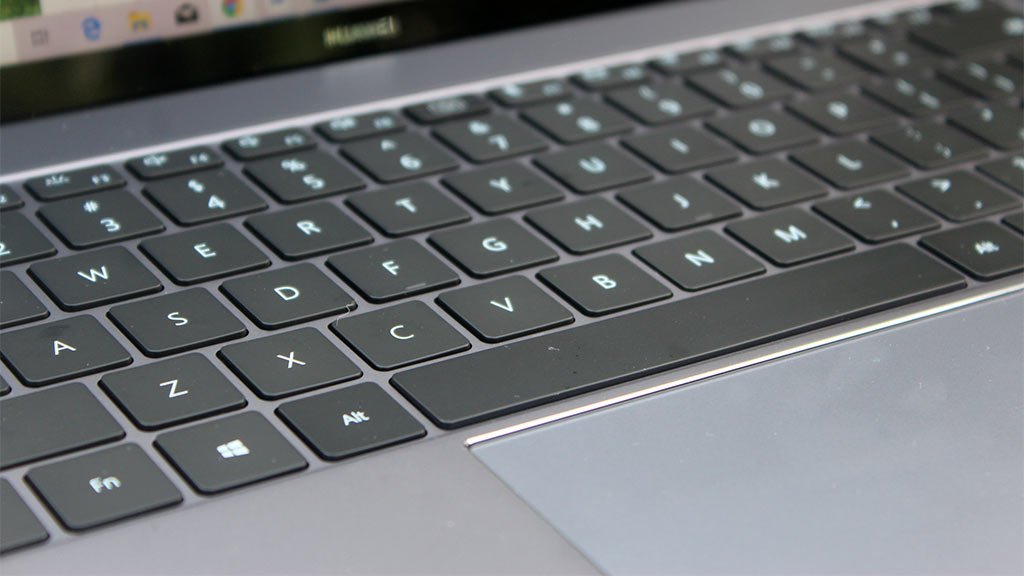 I like how the backlit keyboard and the trackpad are all beveled under the surface to provide a sense of boundaries. The trackpad feels great to drag your fingers along. It also supports multitouch, so it's easier to scroll using the trackpad alone when you don't feel like using the touch display.
The idle space on the laptop is just enough to provide comfortable writing, and the keys feel all tactile. This review was comfortable enough for long writing sessions, as I wrote the full review on the laptop itself.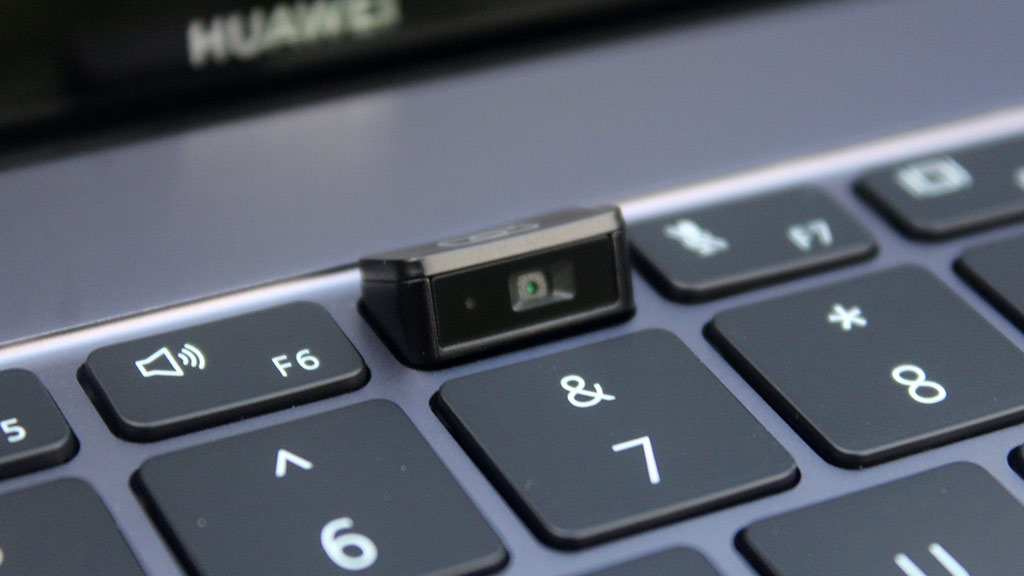 Then there's the camera. A press to that sole camera button reveals the 1-megapixel camera, and it's a genius move to provide a sense of privacy by hiding it when not in use. I've seen a lot of people cover their laptop cameras with tapes and I thought this was an innovative way of providing that sense of privacy. The camera does a great job, though you'd probably look into it a lot more since it captures you from further down rather than on face level which may be unflattering at times.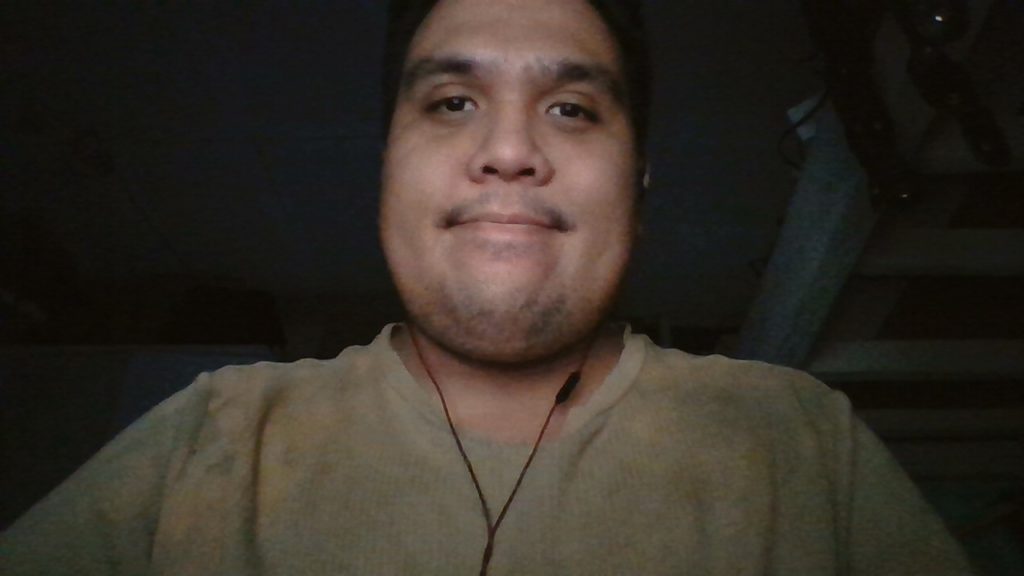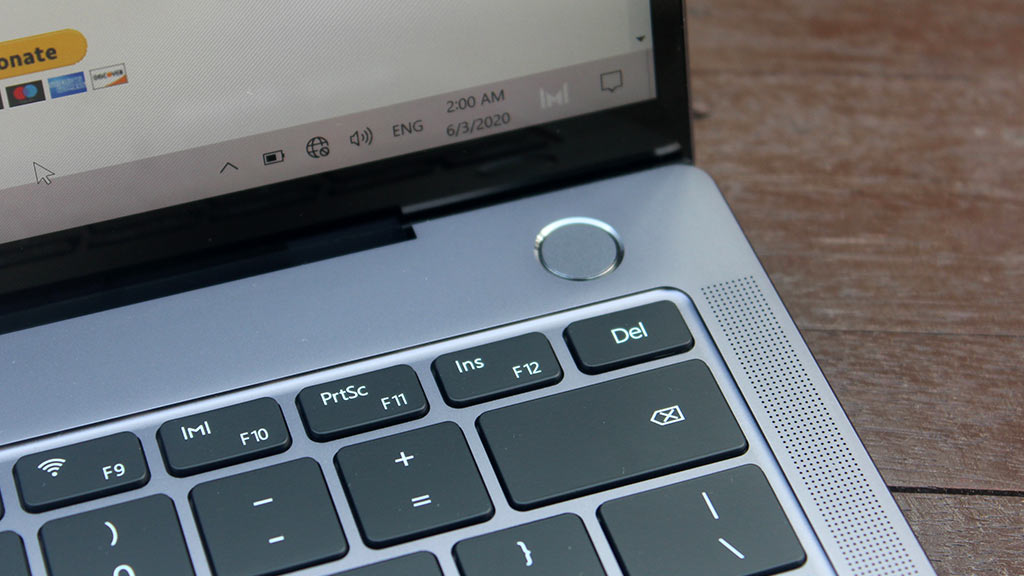 The power button is also nicely chiseled and embellished with a chrome accent around, which helps especially in dim situations. The button also doubles as a fingerprint scanner, which is very useful for one-touch unlocking through Windows Hello.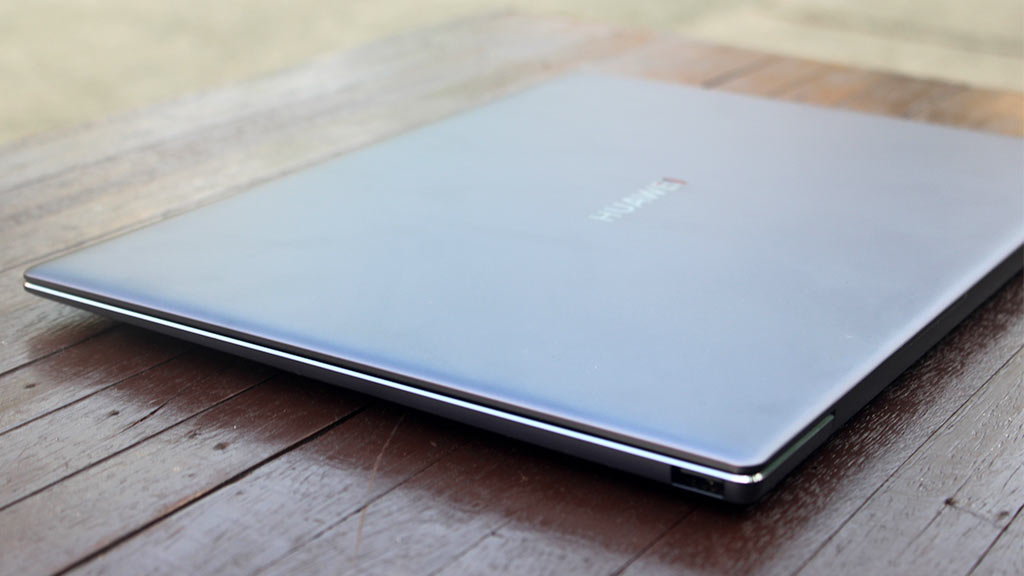 When folded, the device is quite thin enough to be placed inside an envelope and carried around like a folder with many inserted papers inside. This design reminds me of Apple's MacBook AIr, but in a good way since it has more ports and features.
A stellar touch display
Let's check the near bezel-less 14-inch display, which is a touch-enabled screen with a 3K resolution at 3000 x 2000 px. Images and text shown on the display are sharp and crisp, and it offers a near-accurate saturation, which makes this laptop a good choice for creatives who rely much on color to do photo editing or proofing. It's an IPS screen, so you'd see it greatly from other angles too. The brightness is just enough to be used outdoors, too, while the dimmest offers comfortable lighting for nighttime use.
The highly-reflective display, though, suffers from intense glare coming from outdoor surroundings, so it's recommended to work under areas with ample shade. Another is the actual aspect ratio, which is at 3:2. While it's great for productivity-focused activities like document writing or multi-window multitasking, consuming content such as 16:9 videos with persistent horizontal letterboxes may make consumers feel dissatisfied.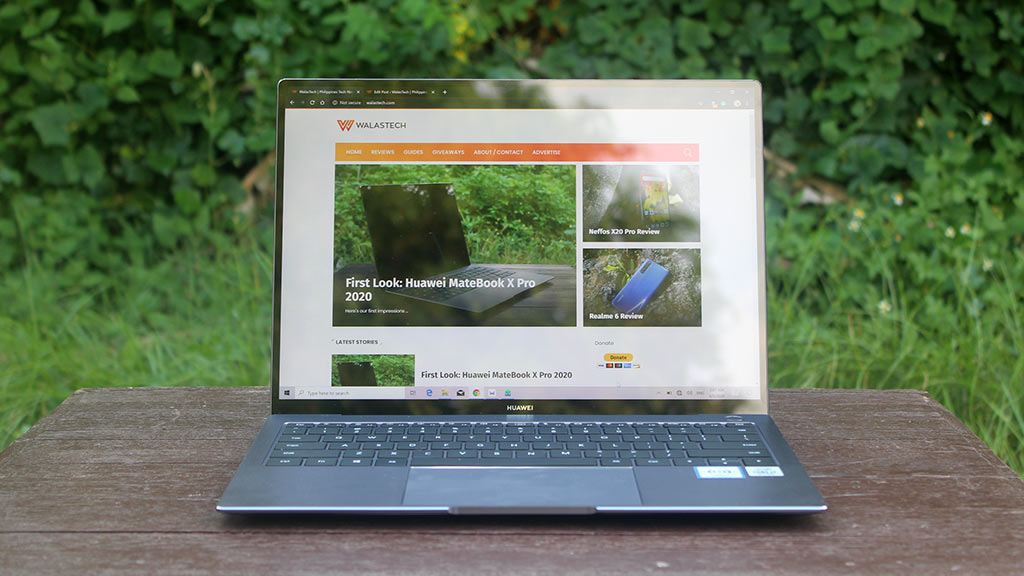 The laptop's speakers are greatly placed beside the keyboard and offer upward-firing sound, and average at 77dB which is good enough for quiet medium-sized rooms. Its sound, surprisingly, is pretty average with weaker mids and highs, and not much oomph for bass. It's not really a multimedia laptop, so you'd probably stick to your favorite audio gear through Bluetooth or its 3.5mm audio jack.
Performance that impresses
This laptop features a 10th-gen Intel Core i7 chip, an NVIDIA MX250 GPU, and a whopping 16GB of RAM for daily activities. It runs on Windows 10, and we're happy to have 1TB of internal storage space onboard. We're just surprised with the partition — 80GB for the OS and the rest of the storage for the second drive.
Some of the default apps you'll see here includes Huawei's own PC Manager, where it automatically detects driver updates and pairs up with a Huawei phone for exclusive features such as Huawei Share (file drop), laptop recording from your phone, or Multi-Screen Collaboration, a way to control your phone's screen from your laptop. The last feature doesn't work with the mid-range Huawei Nova 7 SE 5G for some reason, but other features work just as fine.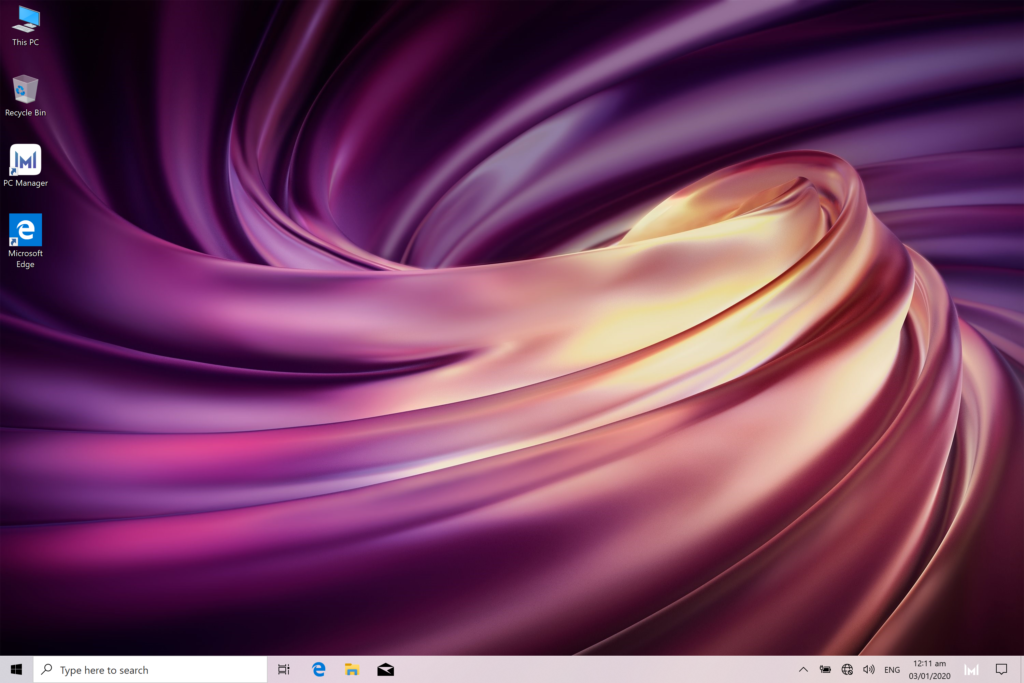 We had no problems using it for our daily activities such as multitasking, playing casual games like Pac-Man Ultimate Championship Edition on Steam, but we don't recommend pushing the laptop too much when it comes to performance. Here are some sample benchmarks:
CineBench – 1,509
GeekBench – 1,156 (Single Core), 5,314 (Multi-core)
Attributing to its metal build and rather restricted airflow where the holes are placed at the gap between the display and the keyboard, the laptop has considerable heat going, sometimes going as high as 92 degrees celsius on more intensive things like playing CS:GO or Dota2. The heat is mostly felt at the upper-middle-part of the keyboard.
Connectivity-wise, the laptop is great with all features within. WiFi and Bluetooth are really good, while wireless options are also good. The fingerprint scanner at the power button is just as responsive and recognized as what you'd get with the brand's own phones.
Decent battery life
Considering that it's a thin device, I did not expect the laptop to last as long as it did, and I was surprised. I was able to use the laptop for all sorts of Internet-related things for more than 4 hours and 40 minutes. A video loop test of a Full HD resolution and 50% display brightness lasted 6 hours and 56 minutes, which isn't really bad at all.
Recharging the laptop with its dedicated 65-watt charger took only an hour and 45 minutes from 0% to 100%. That may be a good thing unless you like to work while charging, to which the laptop heats up as mentioned above.