realme has launched its newest wearable in the country called the realme Watch, and it's the brand's first foray into full-fledged smartwatches. Does it have what it takes to be called a smartwatch? Here's our review.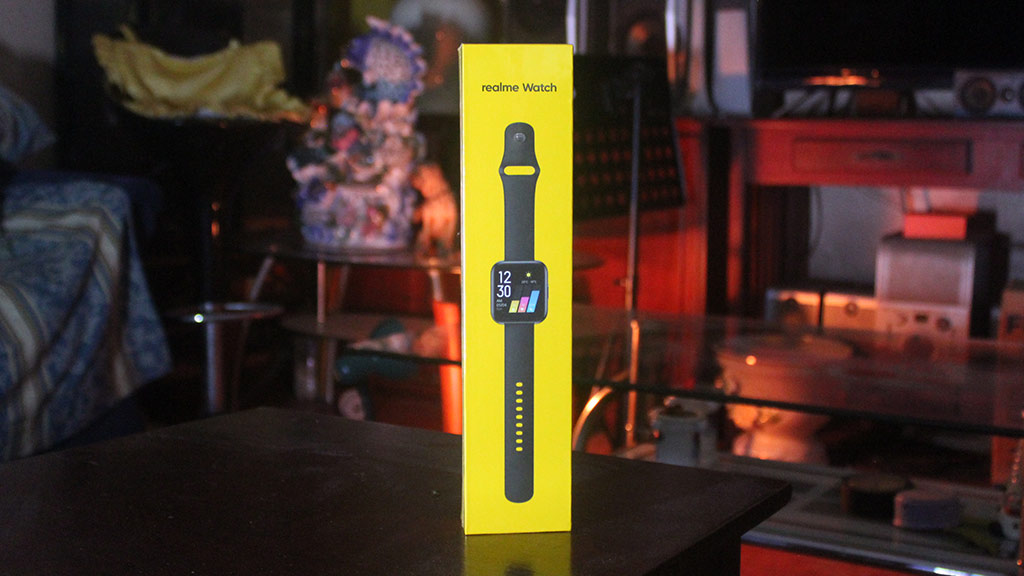 Realme Watch specs:
1.4-inch full-color touch display
20mm removable Classic or Fashion wrist strap
164-208mm adjustable length
Bluetooth 5.0
Heart Rate sensor
Blood Oxygen Level monitor
Rotor Vibration Sensor
IP68 dust and water resistance
160mAh battery
Up to 9 days of battery life (Heart Rate off)
Up to 7 days of battery life (Heart Rate on)
Up to 20 days on standby
Color: Black, Red, Blue, Green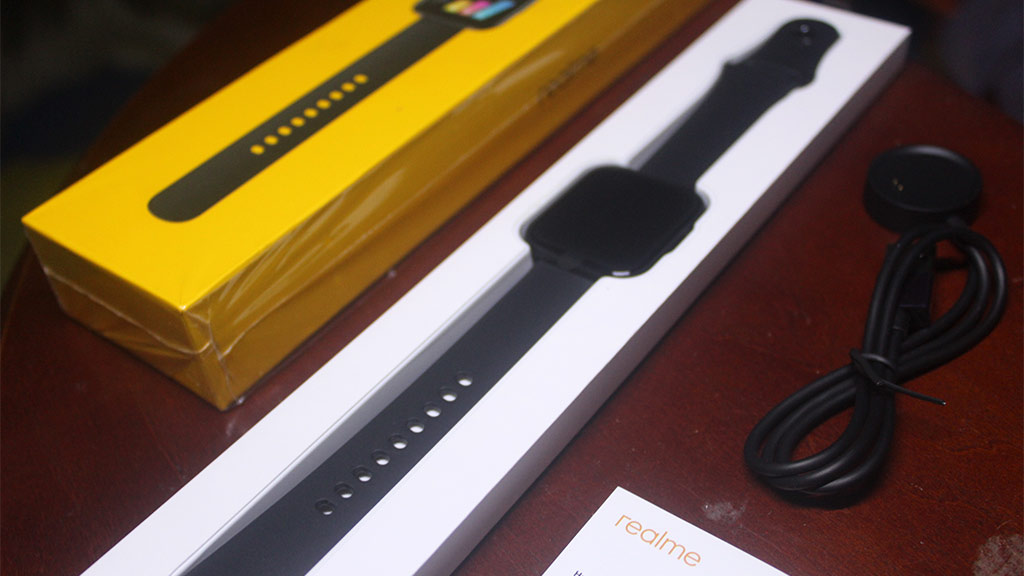 Unboxing the package realme Philippines sent us, we see that they have kept this to a bare minimum. There's the product manual, the Watch itself, and a charging cradle that is quite a magnet. More on that later.
A familiar but still trendy design
Let's talk about the watch. It features a square shape with rounded corners. Even the sides are also curved to provide better comfort when worn. The device doesn't offer any protection for its glass cover so it's best to take care of it and not grind on any hard surfaces to prevent scratches.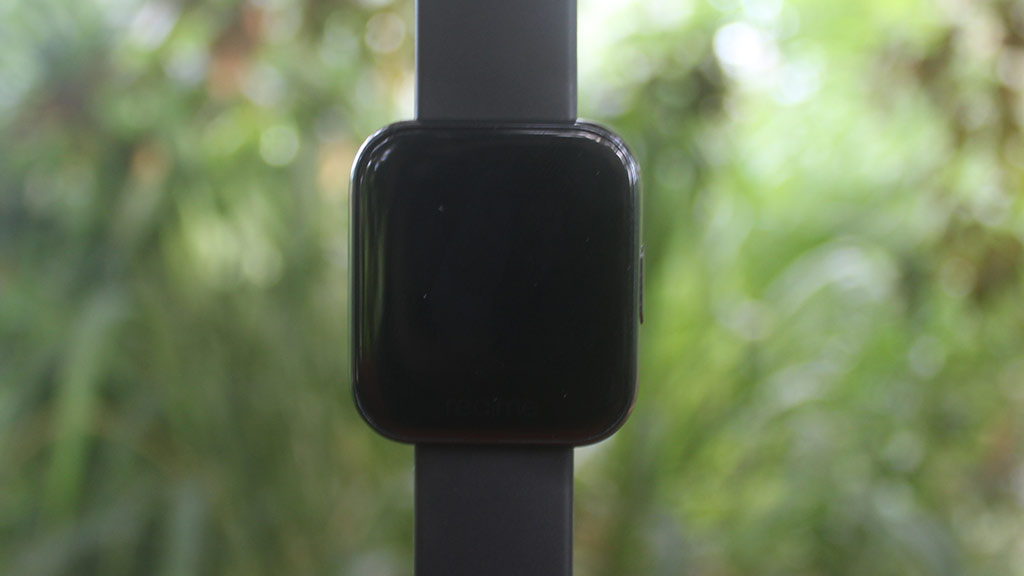 At the right side of the watch is the lone button that functions to power the device on or wake up, as well as put the device back to the time screen and shut it down. It's embellished with a golden line in the middle, which can be seen in dim environments.
Nothing more on the other sides, so we check what's under the hood. In this matte part of the watch, have the heart senor, blood oxygen sensor, and two golden contacts for the charger. A single button clasp on both top and bottom parts of the watch base secure the straps, which are user-replaceable.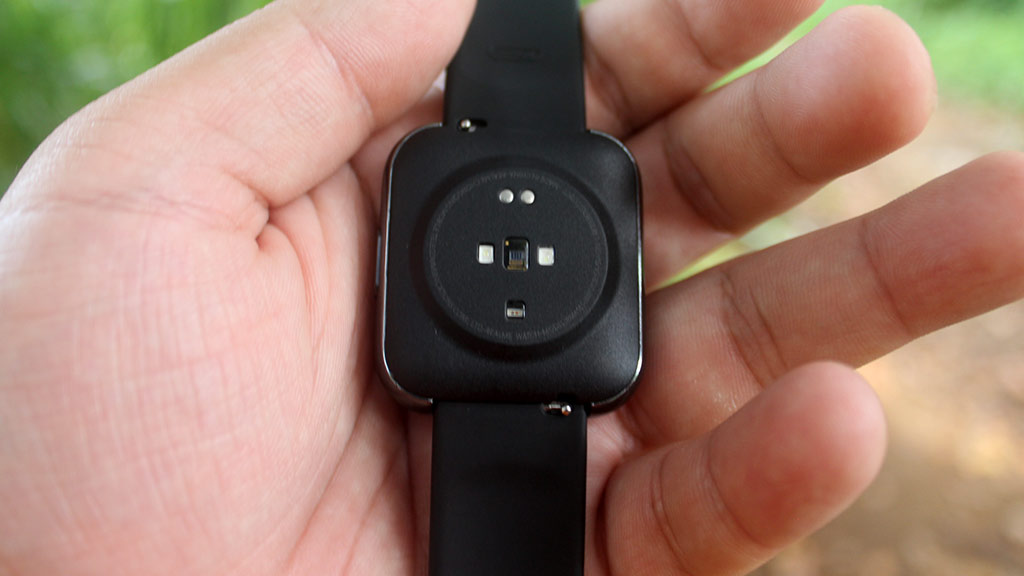 realme offers the Watch in two different strap variants, but what we're likely to see arriving in the country are the non-classic strap variants which was sent to us. To secure the watch on your wrist, you have to pin the lock to the hole, then insert the excess strap in the hole.
This is actually a more secure method rather than latches we've seen on other bands such as the Mi Band, where the lock is the outer layer and it can be easily detached when traveling. The brand also mentioned that'll bring in more strap colors as extra accessories for online purchases, and we're also hoping for the classic straps for those who like to keep it clean and simple.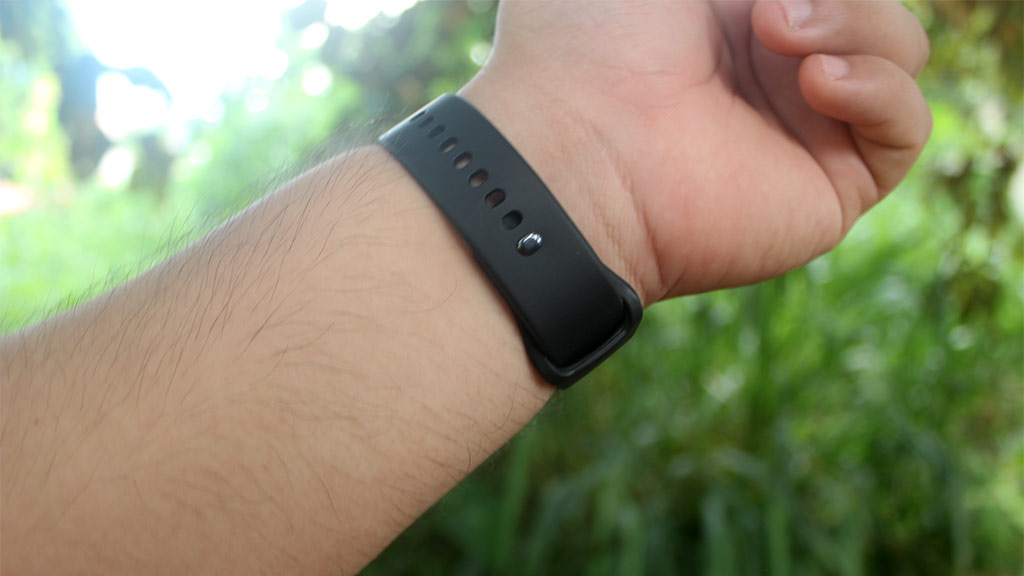 So far, the watch feels sturdy and is lightweight enough to be felt in the wrist despite its size due to the polycarbonate build. the matte rubber straps can be cleaned easily, and they're not much of a fingerprint magnet. The main watch, though, is glossy and does attract smudges from time to time.
A display that's just right
The Watch has a 1.4-inch display which resolution seems respectable for a smartwatch this affordable. Colors are decent and doesn't change much when viewed on different angles. Its brightness is adjustable, so you get anything in 10% increments from 10% to 100%. The brightest is good enough for outdoor activities on a sunny day, while its lowest is just right for bedtime.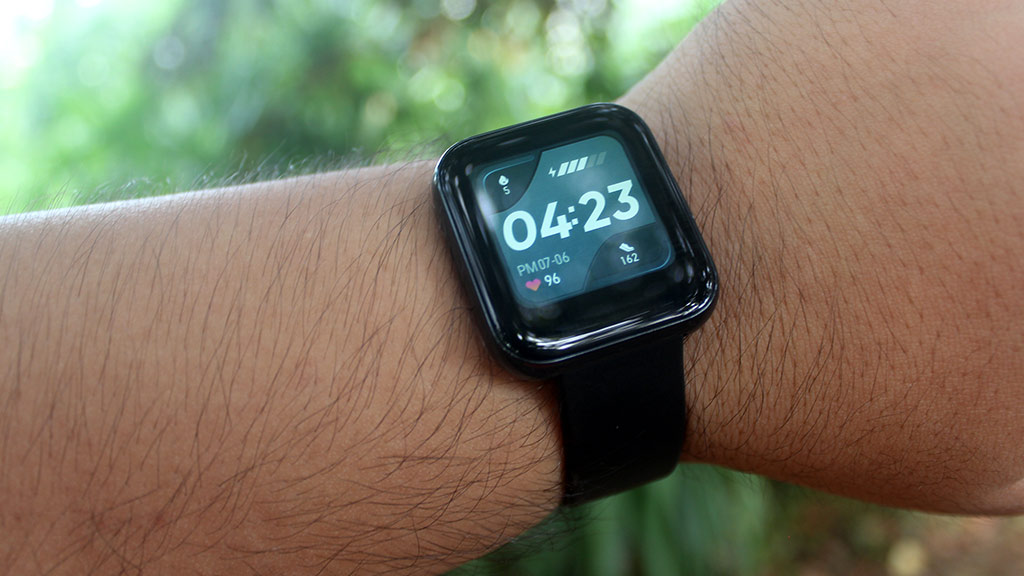 What we just noticed is that the display is a bit small for the whole watch body. It's understandable given its price point, though, as the device is very responsive with our swipes and taps.
It works as advertised
Upon first opening the device, you'll see a default watch face (not this one). Swiping in different directions provide different features, and we're impressed that there's a smartwatch control center when you swipe right. In total, there are 12 available watch faces for you to choose from, but you can only load six at any given time.
You'll see all of your data, as well as other settings, when you sync the Watch to your smartphone through the Realme Link app. The watch is very easy to connect to, and we are able to fiddle on its settings after a few minutes. You'll also see tracking history, sleep history, and other features here.
With the watch itself, you can set its own alarms and control how it performs — you can toggle Do Not Disturb and Raise to Wake, Your smartphone is key to many of its other features, as it transmits information including weather, notifications, and calls to the watch. My only gripe is you can't read in full or reply to an email or SMS notification in the watch; you'll still need to open your phone to do that.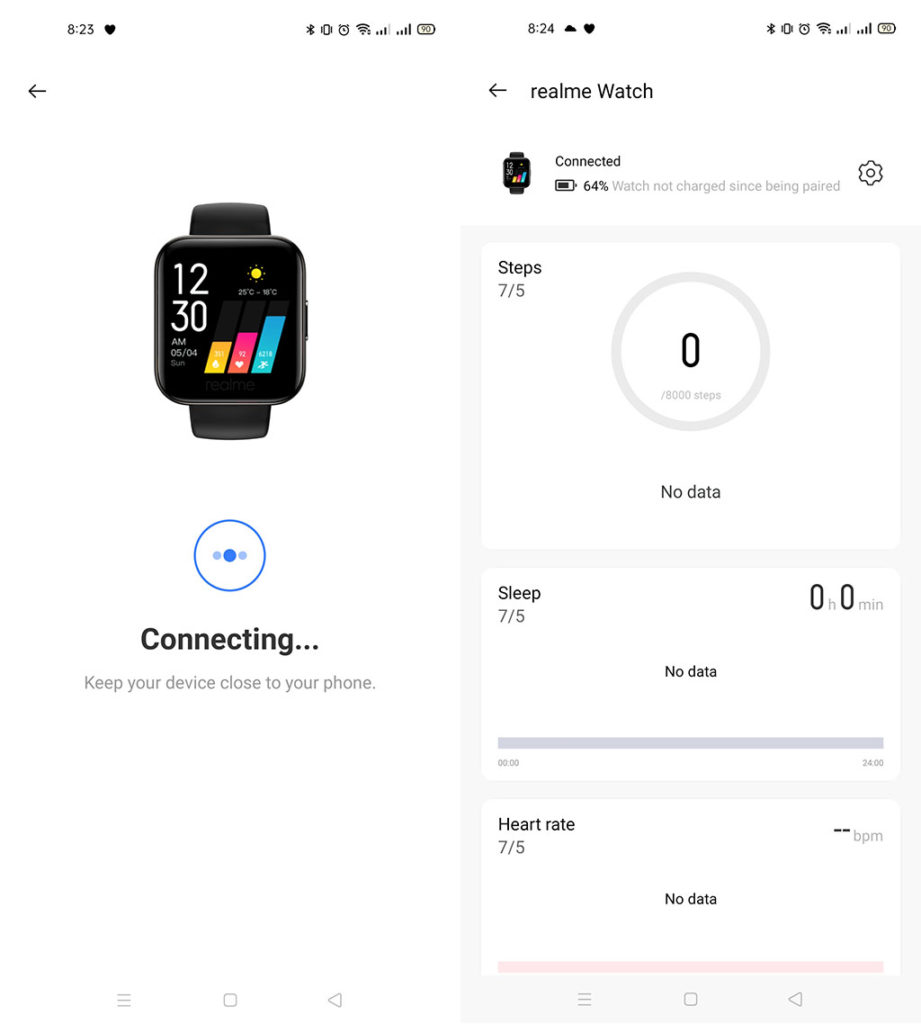 realme's first smartwatch comes with a lot of features. By default, the heart rate sensor tracks your heart rate every five minutes, though this can be toggled to longer intervals in the app. As we measured with another fitness band, which we saw almost equal results. There's also a blood oxygen sensor here, and it works the same as other watches.
Another key feature is its sleep sensor, where the device tracks your sleep and traces it according to light, deep, or REM sleep. Sleep and waking times are accurate, and the in-between awakes I did are also on point when I tracked it.
There are also 14 modes of exercise here including Strength Training, one exercise that isn't featured much on other watches. We tried some including walking and running, and they all seem to work fine. Sadly, you'll need to bring you phone with you as you exercise as the Watch doesn't come with a GPS sensor built-in. It's water-resistant, though, so exercising with it is very much doable.
A decent battery life
We received this watch around seven days ago, and it lasted just six before we put the wearable again for recharging in its cradle. This was in its default settings including constant heart rate monitoring every five minutes, as well as multiple alarm, notification, and call notices that required the watch to vibrate. Recharging is easy as the cradle is magnetic and will easily connect to the two contacts under the watch. Recharging, on the other hand, is slow and takes around an hour and a half to achieve a full 100% capacity.