ASUS released its newest gaming laptop called ROG Strix Scar 17, equipped with an i9 10th gen chip, up to 32GB of RAM, and a 17-inch monitor with a 300hz refresh rate combined with an RTX 2080 SUPER graphics card. That sure sounds like a lot for a laptop, but this one's quite on the more expensive side and it's meant for those who want to replace their gaming PCs with one that they can actually carry around. Does it live to expectations, though? Here's our full review.
ASUS ROG Strix Scar 17 (G732) specs:
17.3-inch FHD IPS display, 1920 x 1080 px, 300Hz, 3ms
Up to Intel Core i9-10890HK
Up to NVIDIA GeForce RTX 2080 Super
Up to 32GB 3200MHz DDR4 RAM
2 x M.2 NVME 1TB SSD w/ RAID 0 support
2×2 WiFi 802.11ax, Bluetooth 5.1
dual 4.2-watt speakers
3 x USB 3.2 Gen 1 Type-A
1 x USB 3.2 Gen 2 Type-C w/ DisplayPort support
1 x RJ45 jack, 1 x HDMI 2.0b port, 3.5mm combo audio jack
Windows 10 Pro
66Whr battery
39.97 x 29.34 x 2.79 cm, 2.9 kg
The unit ASUS sent to us is the highest-end variant of the latest Scar 17 variant equipped with an Intel Core i9-10980HK chip, 32GB of RAM, and an NVIDIA RTX 2080 SUPER GPU. Just note that we're leaving intense technical laptop reviews to those that actually know them more, as we share our experience in using this for the few weeks it's been with us.
A gamer's portable paradise
If you're looking for a laptop that screams "Hey I'm a great gaming laptop," then this is that laptop. Here's the device at the front, with the 17-inch display in all of its glory, along with the full-sized RGB chiclet keyboard, complete with a trackpad and its two buttons for mouse click buttons. The continuous, programmable RGB lighting strip running at the bottom is also eye candy.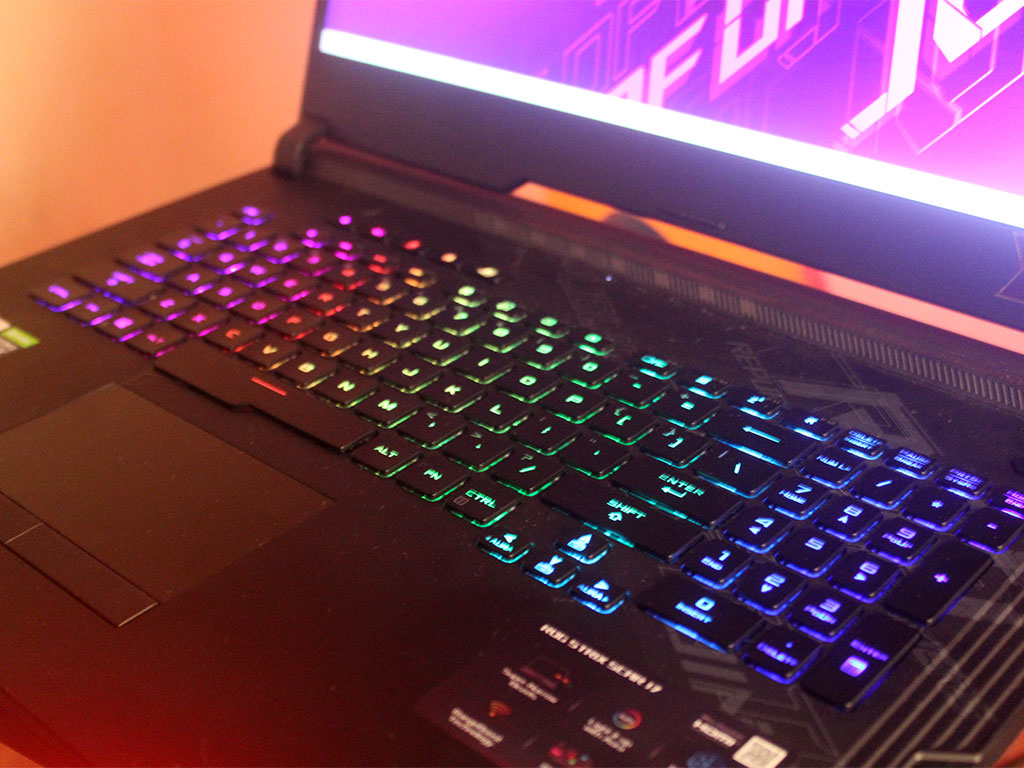 Despite its big size, it's devoid of some laptop essentials. The slim bezels in its display are great, as it's thin on most sides. It does seem scary at first, but it's secure enough to be flipped open and used around. The webcam is not built-in but is included in its package, so you'll find yourself setting it up as you need it. Not that we're complaining, but it's great thinking considering this is primarily made for the heavy games.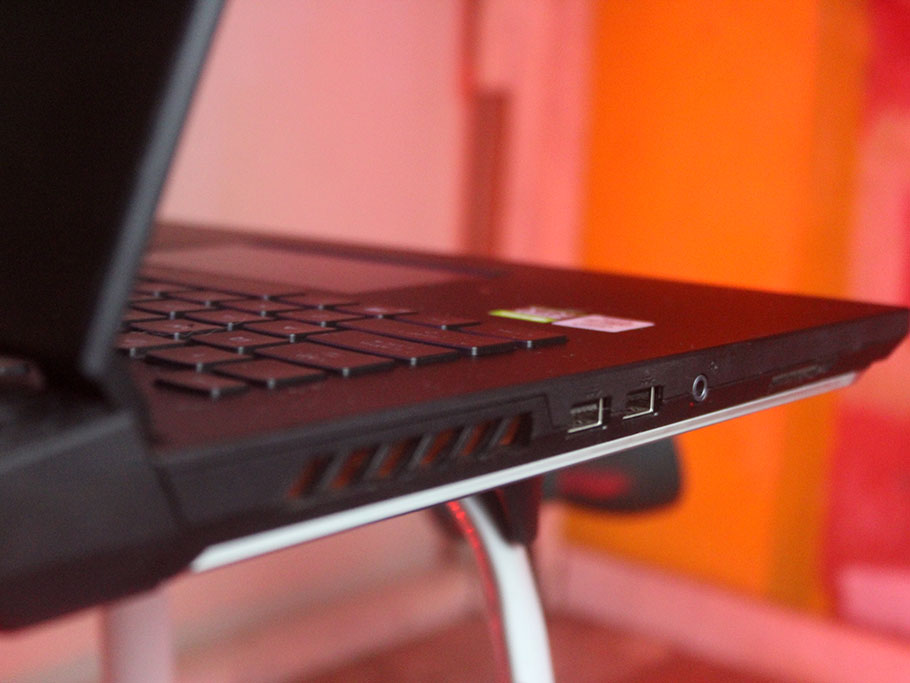 Its ports are also organized in a way that does not clutter the table. Most of them can be found at the left side (two USB 3.2 Gen 1 Type-A ports, a 3.5mm combo audio jack) and the back (Ethernet, HDMI, USB Type-C that doubles as a DisplayPort, and another USB Type-A). Vents are all over the sides to aid in cooling the device. At the right is a notch for its "Keystone" feature, a red, token-like object with an RFID chip that gives its users elite permissions such as hiding drives or perform certain functions on the laptop.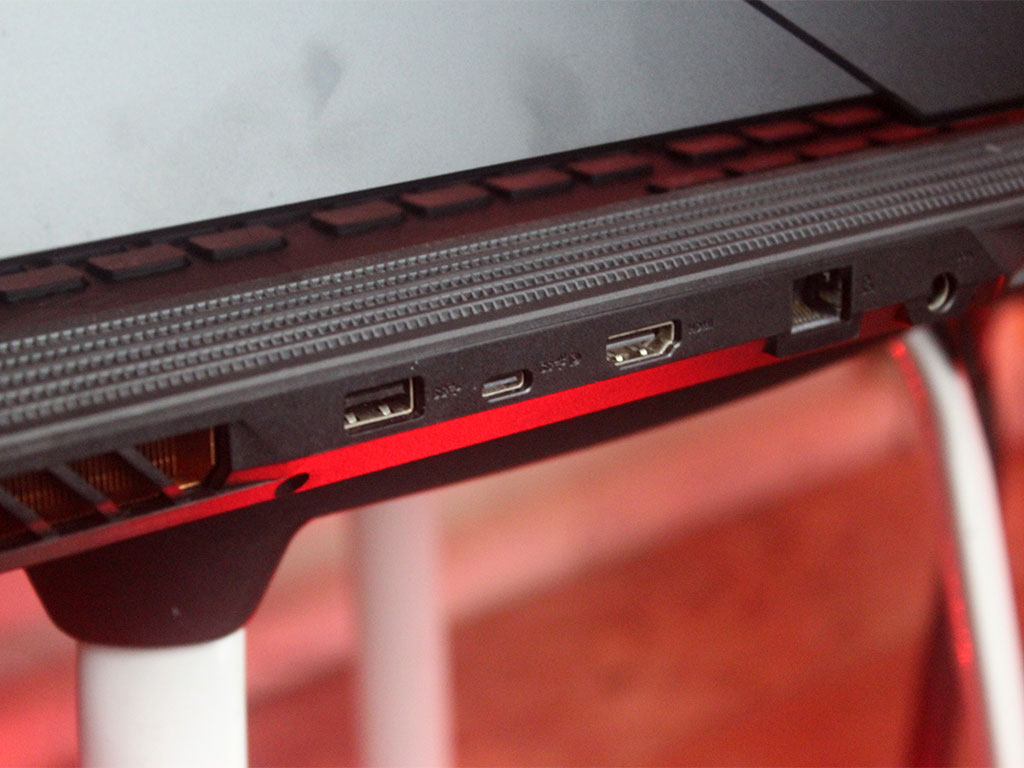 The lid is done in a matte finish, with a diagonal streak pattern subtly making an impression, and the ASUS ROG eye logo showcasing lighting in your preferred RGB color, or a running color spectrum by default. It's quite the fingerprint magnet due to its matte surface, but can be easily wiped off.
Overall, the laptop is still decently weighed enough to be carried around the house for gaming, thanks to its polycarbonate construction. While it provides an abundance of space in the laptop, it feels awkward to type in the keyboard at times because of the length to reach it. The trackpad could've been bigger, too, but it's nearly enough for our use.
A more immersive gaming experience
The 17-inch Full HD display provides an immersive experience with a 300Hz refresh rate and a 3ms response time. Compared to laptops we have at home, animations are more fluid as we used the laptop both for work and play. You're welcome to have a buttery experience when playing games like APEX Legends where we saw animations being more fluid than we're used to.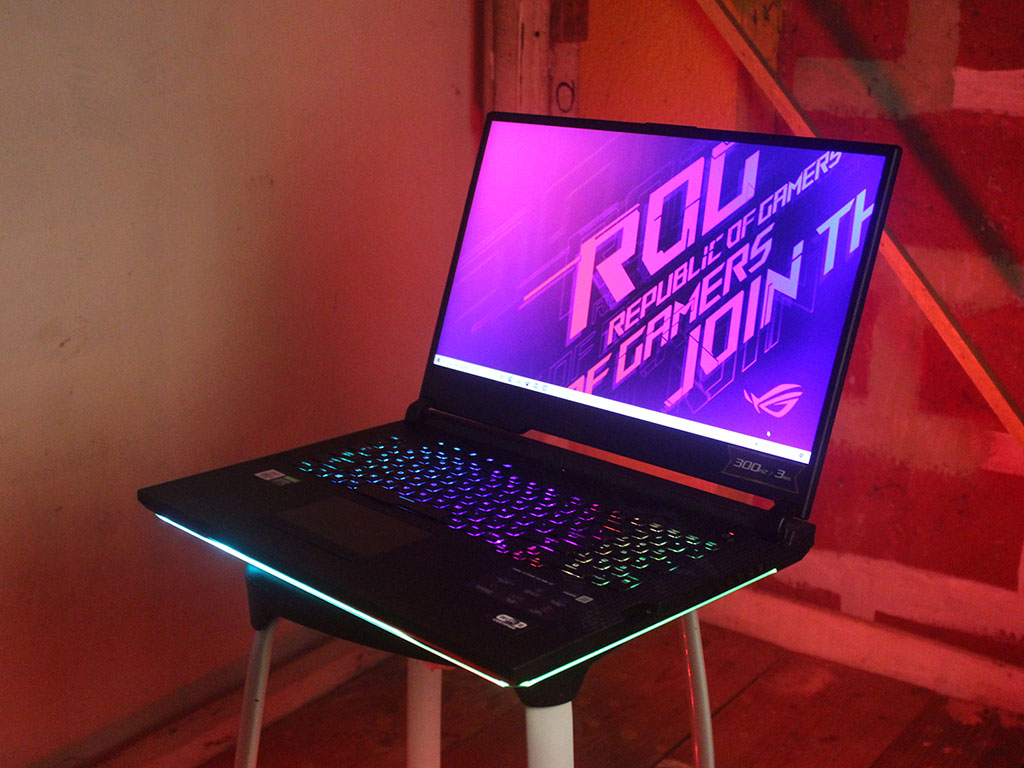 ASUS says it's a vIPS-level display that's on this device. The colors are great, but can sometimes be duller than it should be. The contrast is just okay and offers decent viewing angles. The brightness setting at 100% is just enough for indoor gaming, and its lowest point is still viewable at night.
Audio-wise, you'll have no problems. We blasted different music pieces and played games and tuned them with the pre-loaded ASUS Sonic Studio III app. We're happy to report that they're a lot better than your average dual speakers. It can easily fill up a medium-sized room and offers clear, deep lows and highs, as well as bassy punches.
Great performance that matters
What can you do with such a laptop with 32GB of RAM, 2TB of PCIe SSD, and a RTX2080 Super GPU? A lot.
My brother Marc and I played a lot of games with this laptop in the past week, and I cannot agree more with his assessment:
In my gaming experience with the STRIX SCAR 17, I am actually thoroughly impressed with its performance when playing my favorite games. I never actually experienced any frame drops even while I'm playing with max settings in DoTA 2 or Valorant. The 3ms response time helped me improve my reaction timings in various situations in games like skirmishes in DoTA or getting frags in Valorant. My whole gaming experience was based on using the laptop's full-sized keyboard and an external gaming mouse. Thermal heat isn't felt on any part of the keyboard since the laptop's design has three thermal exhausts, but I noticed that the thermal exhaust on the right side of the affects my right hand and mouse especially when gaming. When I was using SUPERPOSITION BENCHMARK with 4K Settings and my GPU only reached around 77 degrees celsius.
I've to say that as well. Playing my own type of games such as APEX Legends, Valorant, and GTA V was smooth and responsive, devoid of any lags. Productivity tasks — rendering videos and images are hands down, a lot faster than what I'm used to.
Here are our benchmarks with Turbo mode:
CINEBENCH R20 (Plugged) – 3,404
CINEBENCH R20 (Unplugged) – 2,058
SUPERPOSITION BENCHMARK (4k Optimized) – 8,647
Geekbench (Compute Mode) – 113,037
3DMark 11: 26,581
Grand Theft Auto V (Utilizing 8GB VRAM) – 30 FPS avg
Shadow of the Tomb Raider with SMAA4x in Ultra – 86 FPS avg
Shadow of the Tomb Raider with TAA in Ultra – 106 FPS avg
Valorant (Maxed Settings) – 300 FPS
DOTA2 in Ultra Settings – 198 FPS avg
SUPERPOSITION BENCHMARK (4k Optimized) – 64 FPS avg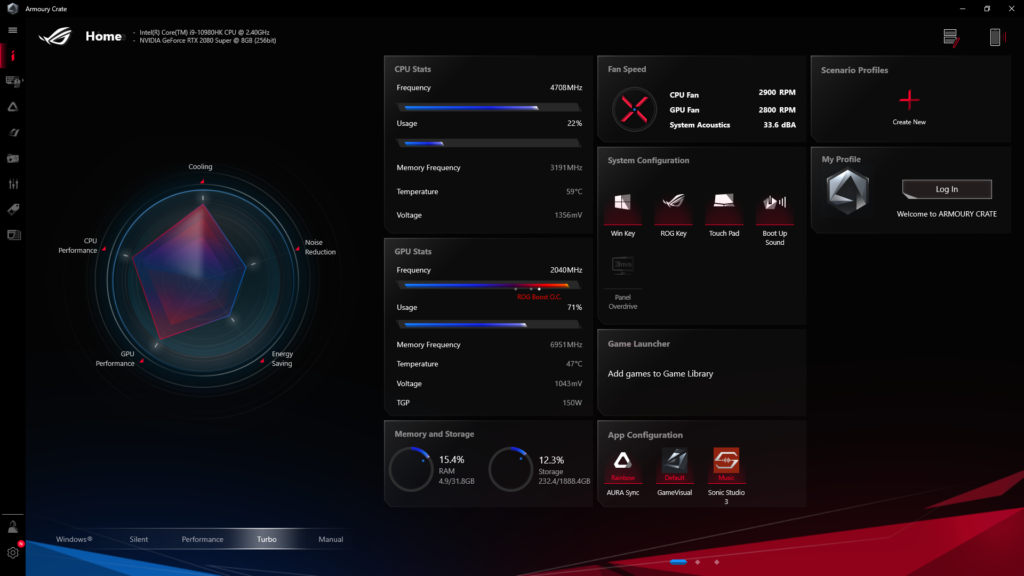 ASUS has placed different operating modes to provide the best control for every type of scenario, including Turbo, Silent, Performance, and Manual fan setting. Surprisingly, the idea of heat is almost non-existent with this laptop. Vents are all over the sides, so you have a much cooler laptop at less than 32 degrees under the device.
This laptop runs on Windows 10, with added ASUS apps in tow. There's the ROG Gaming Visual and the Sonic Master III for audio and display, a keystone configuration app, as well as the ever-popular Armory Crate, AURA Creator, Aura Sync for the bundled ROG Gladius II mouse, and ASUS ROG News. McAfee's Lifesafe is also included as a trial pack, as well as Microsoft's Office 365 suite.
Connectivity-wise, all is great. The WiFi gets signal reception really well, and its Bluetooth works decently too. There's an option for wired Internet connectivity through the RJ45 ethernet port, and our speeds are comparable to our own PCs. USB speeds are also great given these are Gen 3.2 ports.
With great power comes great plugging, but the battery life is decent as you can get
The SCAR 17 is a power-hungry machine, and that is why it comes with a 280W Adaptor to supply all of the system components including your RGB aesthetics. Our average use, unplugged, and using WiFi, the 66Whr battery clocked close to four hours. An FHD video loop test with 50% brightness and no audio lasted 5 hours and 29 minutes, which we thought was decent enough for a device of this caliber. You definitely need to keep this gaming laptop plugged in to play for longer periods of time.