ASUS has officially launched its newest laptops in the country, the ZenBook 13 (UX325EA) and the VivoBook S (S433EA/EQ) powered by the newest 11th-generation Intel chipsets. They are the first in the country to officially launch the products in the market locally.
A new ZenBook with more power to work smarter and lighter
The thinnest laptop in the world just got a new upgrade. The ASUS ZenBook 13 UX325 is now powered with an 11th Generation Intel Core i5 processor, which makes light work of multitasking, productivity, and entertainment, and it's complemented by the new Intel Iris Xe graphics for superb all-round performance, allowing for smooth and high-quality visuals. Intel Iris Xe graphics delivers transformational GPU and integrated graphics to support richer gaming experiences and greater speed for designers and creators.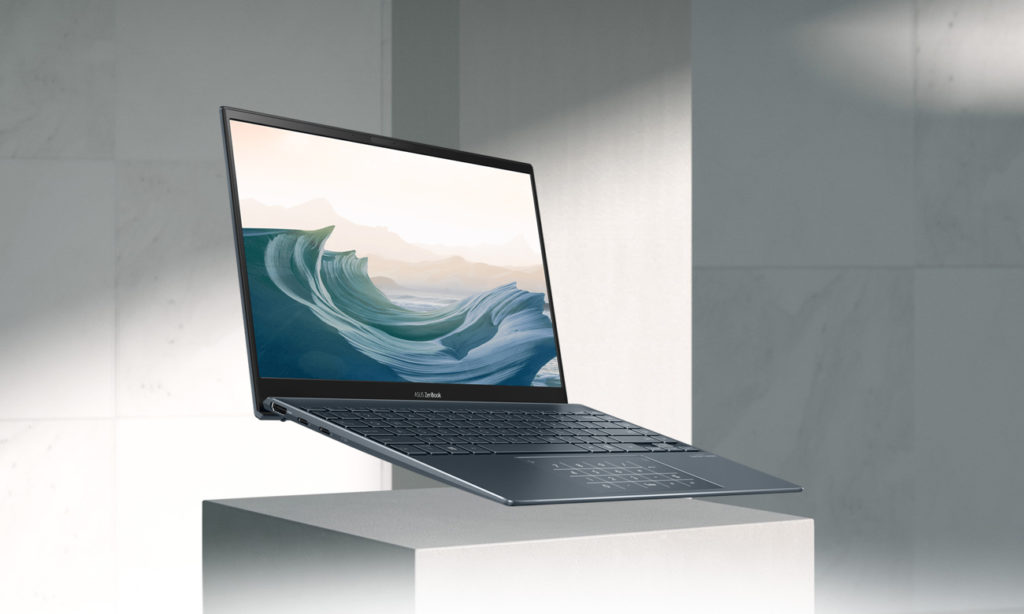 At only 13.9mm thin and 1.11kg ultralight, the all-metal design of the ASUS ZenBook 13 makes it the ideal work device for young, mobile professionals. It's also the world's thinnest 13-inch laptop to feature a full set of I/O ports — including HDMI and USB Type-A — so you can enjoy versatile connectivity wherever you are. With the ASUS ZenBook 13's amazing 15-hour battery life, working without a charger isn't a big deal. When you do need to top up, its fast-charge feature can restore the battery to a 60% charge level in just 49 minutes, so you'll be ready to go in no time.
Despite being thin, the laptop still features multiple ports for your convenience. There's the Thunderbolt 4 at your disposal, with two Thunderbolt 4 USB Type-C ports that support fast charging, 4K UHD external displays and up to 40Gbps data transfers. For easy transfers of data from your mobile devices, there's also a microSD card reader.
The trackpad isn't without any tricks, as the ASUS ZenBook 13 comes with the ASUS NumberPad 2.0, a dual-function touchpad with an integrated LED-illuminated numeric keypad, perfect for professionals who do a lot of number crunching. Even when NumberPad is activated, the touchpad can be used for cursor control thanks to its intelligent software. With the latest Wi-Fi 6 (802.11ax) you can enjoy wireless speeds that are up to 3x faster than the previous generation Wi-Fi 5, with 4x more network capacity and up to 75% lower latency, solving any problems you can encounter while working from home.
ASUS ZenBook 13 (UX325EA) specs:
13.3-inch FHD LED display
1920 x 1080px
300 nits, Slim 2.9 mm bezels, 88% screen-to-body ratio
Intel Core i5-1135G7 processor
Intel Iris Xe Graphics
8GB 4266MHz LPDDR4X RAM
512 GB PCIe 3.0 x2 NVMe SSD storage
HD infrared (IR) webcam
with support for Windows Hello
Intel WiFi 6 with Gig+ (WiFi 802.11ax), Bluetooth 5.0
2 x Thunderbolt 3 USB-C
ASUS USB-C Easy Charge
1 x USB 3.2 Gen 1 Type-A
1 x Standard HDMI 2.0
1 x MicroSD card reader
ASUS NumberPad 2.0 touchpad
Harman Kardon-certified audio
ASUS SonicMaster stereo audio system
Surround-sound, Smart amplifier
Array microphone
Cortana and Alexa support
MIL-STD 801G Standard
Windows 10 Home
67Wh Li-Po battery
65-watt power adapter
1.11kg, 1.39cm x 30.4cm x 20.3cm
A Vivobook S with power and style
The ASUS VivoBook S14 S433 is powered by up to a quadcore 11th Generation Intel Core i7 processors, and also comes with the new Intel Iris Xe graphics exclusive to its i5 variant, as well as an array of I/O ports to ensure compatibility with a wide range of peripherals. Thanks to the Intel Iris Xe graphics, the 11th Gen Intel Core processors provide better computing performance and can enable gameplay at FHD 60FPS on some titles, with better battery life and mobility than previously possible on earlier generation integrated graphics.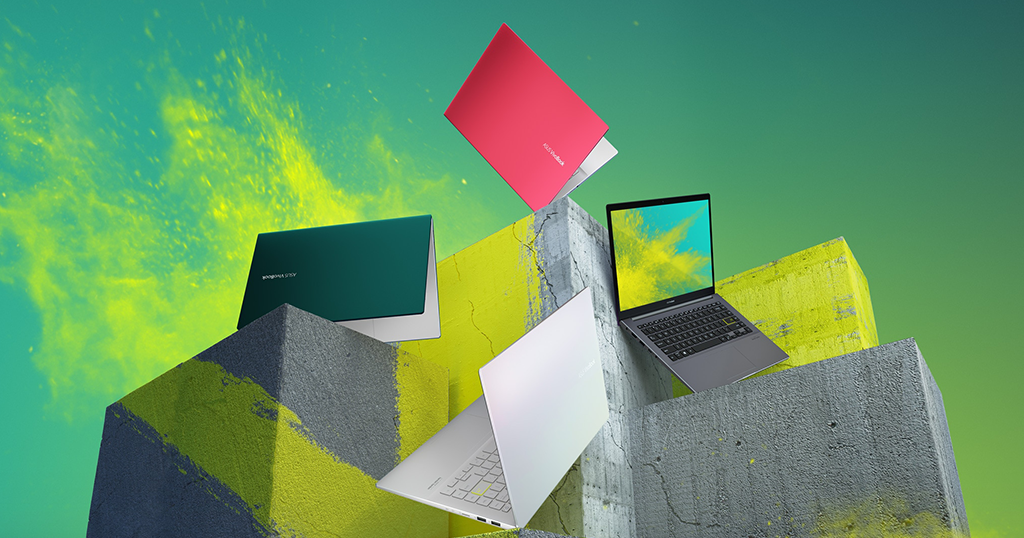 The new processors revolutionize modern creative workflows with Intel Deep Learning Boost AI acceleration and AV1 media encoding and decoding technology. The new ASUS VivoBook S series features the ASUS Intelligent Performance Technology (AIPT) that dynamically adjusts power consumption, to optimize power efficiency and to achieve quieter operation and cooler temperatures, while improving the performance by up to 40%.
The ASUS VivoBook S14 features an ultraportable design that doesn't weigh you down. With only 1.4kg light weight and 15.9mm thin, the ASUS VivoBook S14 can easily fit inside a messenger bag or backpack so you can take it anywhere you go.
The ASUS VivoBook S 14 is also housed by Up to Intel WiFi 6 with Gig+ (802.11ax) and Bluetooth 5.0. which also includes a Thunderbolt 4 USB Type-C for better connectivity experience, whenever, wherever. With the ASUS VivoBook S14 comprehensive connectivity, you would be relief from the hassle of bringing extra dongle to help you boost your productivity.
ASUS VivoBook S14 (S433EA/EQ) specs:
14-inch LED-backlit Full HD Frameless four-sided NanoEdge display
1920 x 1080 px, 85% screen-to-body ratio
178° wide-view technology
Intel Core i7-1165G7 processor (S433EQ)
Intel Core i5-1135G7 processor (S433EA)
NVIDIA GeForce MX350 (S433EQ)
Intel Iris Xe Graphics (S433EA)
8GB 3200MHz DDR4 RA
512 GB SSD storage
HD camera
Intel WiFi 6 GIG+ (802.11ax), Bluetooth® 5.0
1 x Thunderbolt 4 USB Type-C
1 x USB 3.2 Gen 1 Type-A
2 x USB 2.0
1 x HDMI
1 x Audio combo jack
1 x MicroSD card reader
1 x DC-in
Array microphone with Cortana voice-recognition support, 3.5 mm headphone jack
Harman Kardon certified speakers
50 Wh 3-cell lithium-polymer battery
Fast charging: 60% in 49 minutes
65 W power adapter
Plug Type: ø4 (mm)
Windows 10 Home
Colors: Dreamy White / Indie Black / Gaia Green / Resolute Red
1.4 kg, 1.59 cm x 32.49 cm x 21.35 cm
Pricing and Availability
The all-new ASUS ZenBook 13 UX325 is powered with the latest 11th Generation Intel Core i5 processors, complemented by the new Intel Iris Xe integrated graphics, and comes in the sleek and sophisticated Pine Grey color. The latest ZenBook Classic is available starting today in ASUS Concept Stores and ASUS Official Lazada Store and is priced at just Php 54,995.
Meanwhile, the ASUS VivoBook S14 (S433) is available in two variants. The first comes with the latest 11th Generation Intel Core i5 processors matched with Intel Iris Xe graphics, available in all 4 colors (Indie Black, Resolute Red, Gaia Green, and Dreamy White), and is priced at just Php 49,995. The second variant comes with an 11th-gen Core i7 processor and is matched with NVIDIA MX350 graphics, and exclusively comes in Indie Black and Dreamy White color variants. This variant is priced at just Php 59,995. The latest ASUS VivoBook S will be available starting the first week of November in ASUS Concept Stores, IT Multi-brand Stores, ASUS E-Store, ASUS Shopee, and ASUS Lazada official online stores.