This is the all-new ASUS ZenBook 13, launched in the Philippines just a few months back. It's packed with a brand-new 11th-gen Intel Core processor, a 13-inch display, and a supposed long-lasting battery in a rather slim and compact format. Does it have all the bells and whistles of a good ultrabook? Here's our review.
ASUS ZenBook 13 (UX325EA) specs:
13.3-inch FHD LED display
1920 x 1080px
300 nits, Slim 2.9 mm bezels, 88% screen-to-body ratio
Intel Core i5-1135G7 processor
Intel Iris Xe Graphics
8GB 4266MHz LPDDR4X RAM
512 GB PCIe 3.0 x2 NVMe SSD storage
HD infrared (IR) webcam
with support for Windows Hello
Intel WiFi 6 with Gig+ (WiFi 802.11ax), Bluetooth 5.0
2 x Thunderbolt 3 USB-C
ASUS USB-C Easy Charge
1 x USB 3.2 Gen 1 Type-A
1 x Standard HDMI 2.0
1 x MicroSD card reader
ASUS NumberPad 2.0 touchpad
Harman Kardon-certified audio
ASUS SonicMaster stereo audio system
Surround-sound, Smart amplifier
Array microphone
Cortana and Alexa support
MIL-STD 801G Standard
Windows 10 Home
67Wh Li-Po battery
65-watt power adapter
1.11kg, 1.39cm x 30.4cm x 20.3cm
Unboxing the box ASUS sent us presents us with the usual stuff — the laptop itself, a 65W charger, documentation for manual and warranty, and a laptop sleeve for added protection. There are also two dongles for the laptop — one is a USB-A to RJ45 Ethernet for wired Internet connectivity, while the other is a USB Type-C to 3.5mm audio jack for wired listening experiences.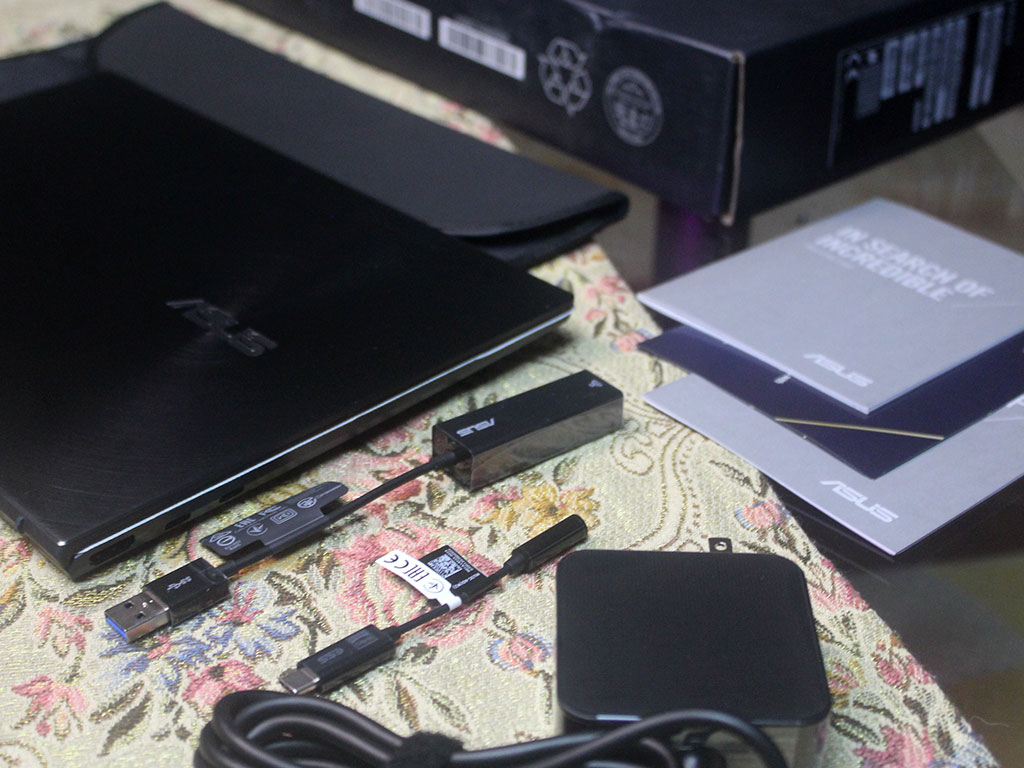 The makings of a well-built, compact laptop
I love laptops that are easy to bring around, and this ASUS ZenBook is no exception. Its compact form factor and light weight are very desirable especially for people like me who like to move around. The Pine Gray color is also great as it's a flexible hue — it easily blends in with the environment and it's not too eye-catching. Let's look at its design. Opening the laptops features the 13-inch display, the keyboard, and the touchpad.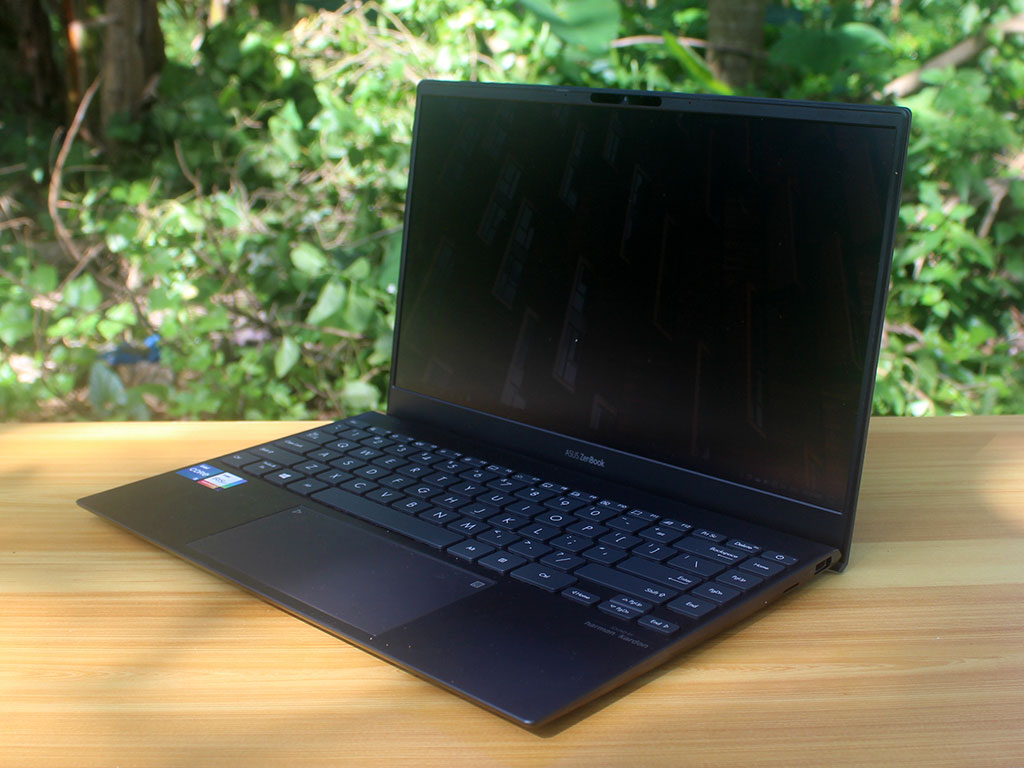 The keyboard, with its chiclet-style keys, lights up when typing. They are big enough for pressing and tapping is relatively easy, but the spacing feels quite different, so it'll take some time to get used to.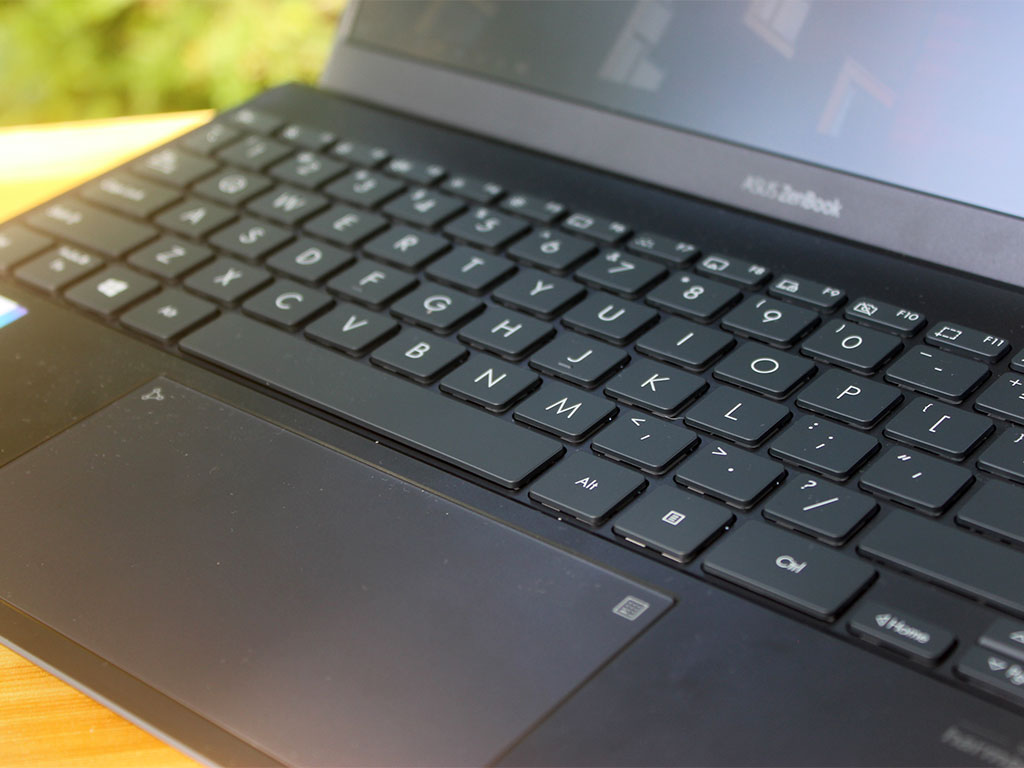 There's also the fairly decently-sized touchpad below, which also doubles as the laptop's dedicated number keys thanks to the ASUS NumPad 2.0 tech. Press the upper-right of the trackpad to activate or deactivate this, and the upper-left to open the calculator for some quick computation. It's also worth noting that the NumPad can still be used as a regular trackpad even when it's on, so you can navigate.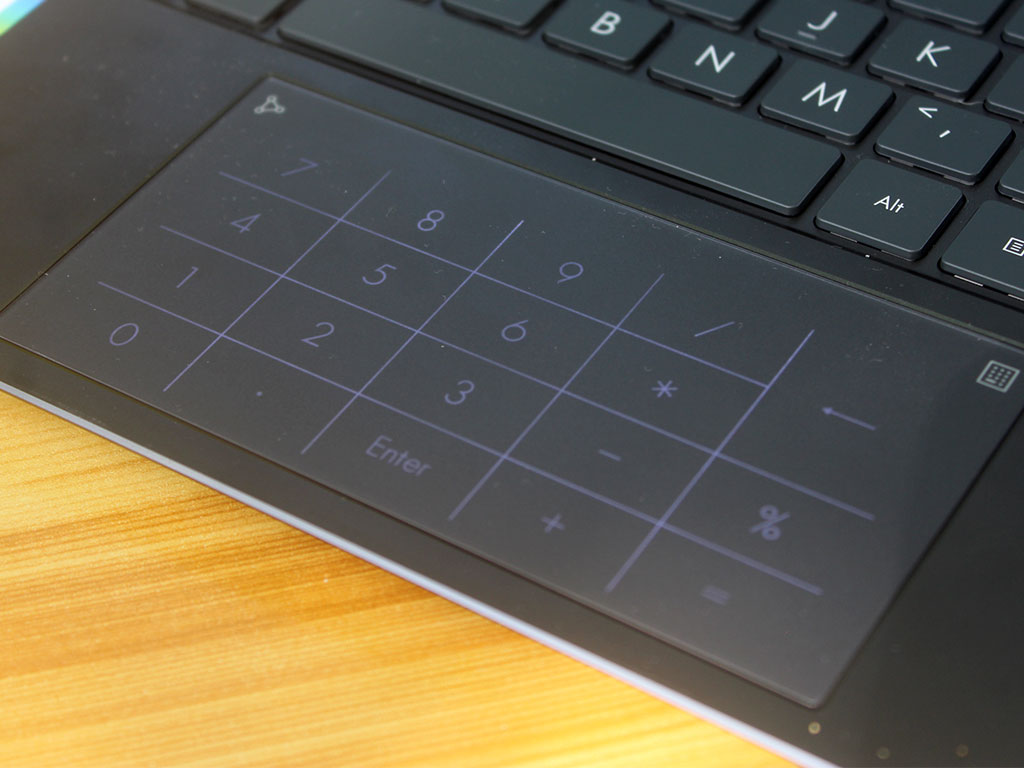 The laptop features the ErgoLift, a design which raises the laptop to a certain degree when it's opened. While it's certainly a comfortable position for typing, the fingers cover the lower part of the display which isn't much of an issue for me.
Despite the thinness of this laptop, it still delivers with a complete set of I/O ports. On the right side is the USB Type-A port, a microSD card reader, and the LED light for the power.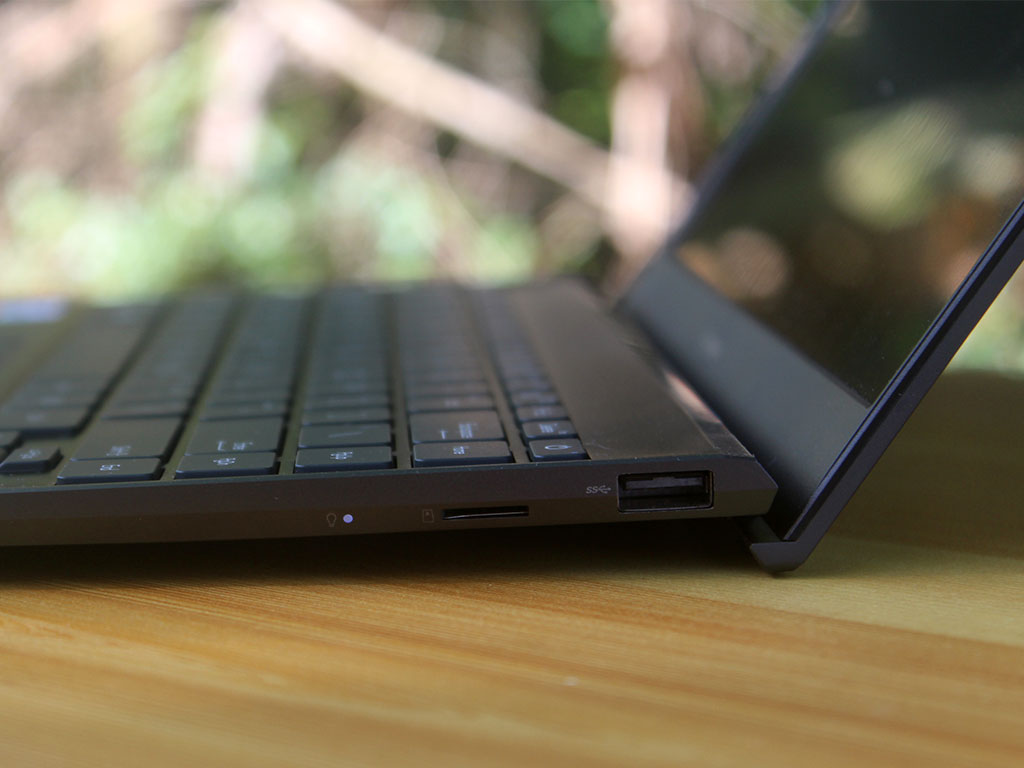 At the other side we have the HDMI port, two USB Type-C ports (with Thunderbolt 3 support for charging), and an LED for charging. It's amazing to see ASUS fit these despite the thinness, but I bet it's going to be a lot better if there's a built-in 3.5mm audio jack rather than a dongle to listen via wired audio.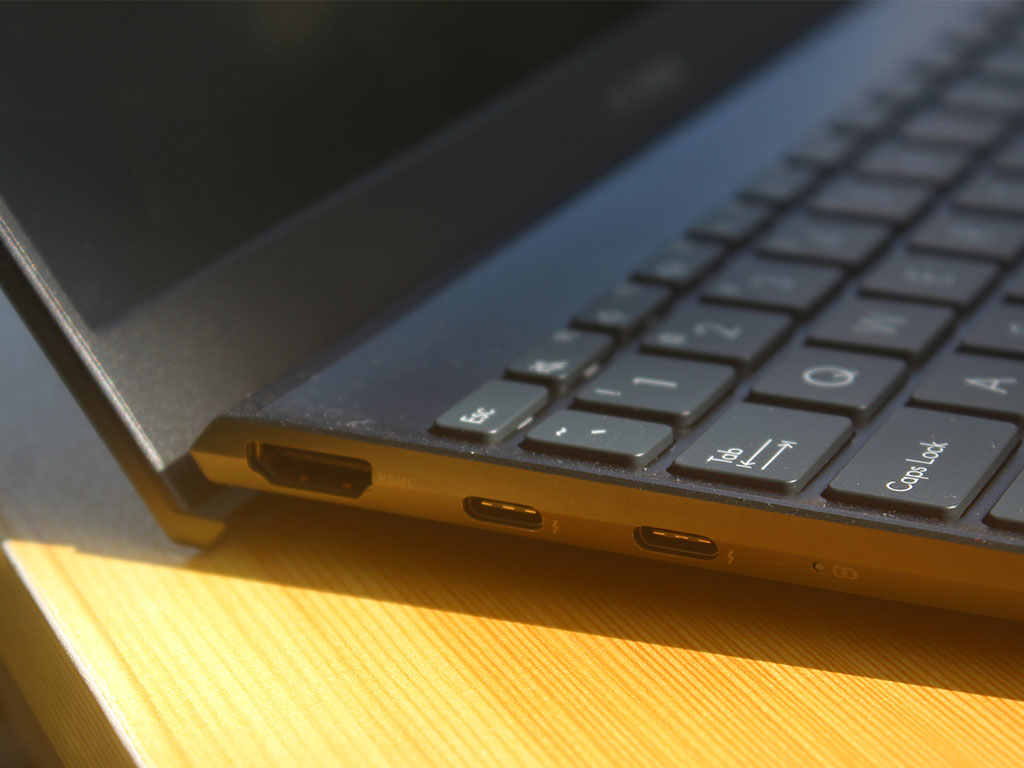 In between the main body and the display of the laptop are the vents you'll need to keep the laptop well-ventilated. Under the laptop are its ventilation through grilled holes, its rubber feet for stability, two loudspeaker grilles at the sides, and the Windows sticker. You can open the back casing to check on the internals, but you'll find the RAM unremovable. Thankfully, its PCIe NVMe SSD is upgradeable should you wish to add more storage in the future.
The front cover, on the other hand, has the ASUS logo in chrome-plated stencil with its trademark concentric ring design. The design helps in not showing much of the smudges and fingerprints, and also aids in easily wiping them off.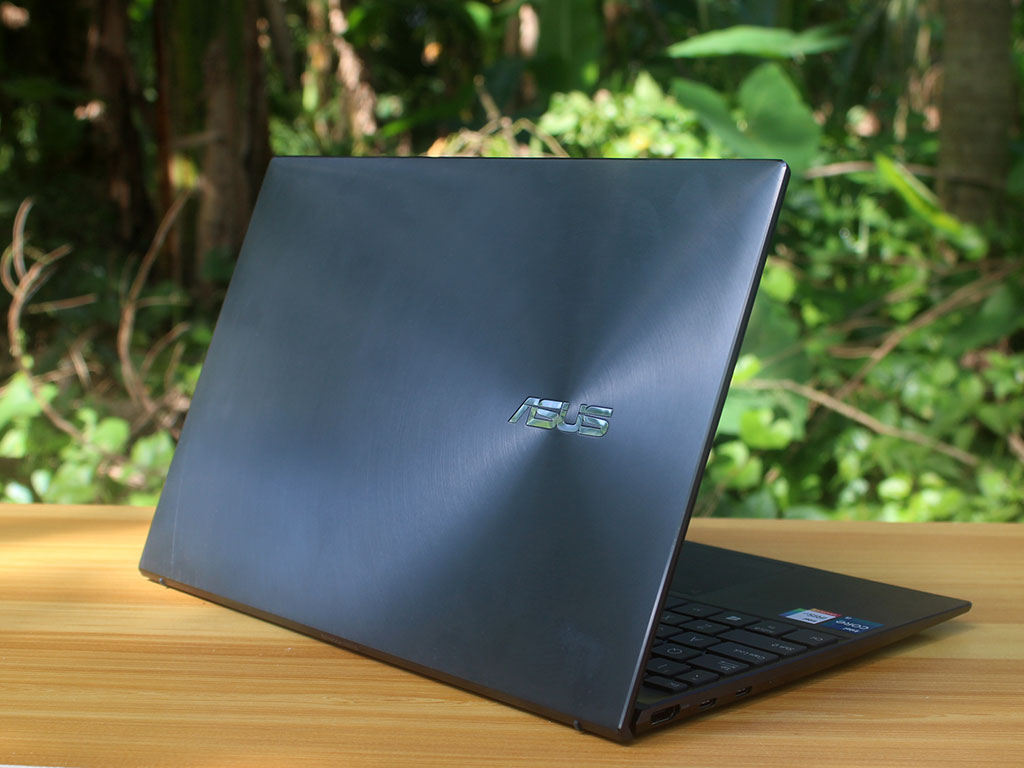 Holding this laptop is the same as holding a folder full of paper inside — it's still surprisingly light so it's great to carry around as we mentioned earlier. The weight isn't also an issue when carried in its folio case, and it fits most bags if you need to travel around.
No-nonsense display with charms to boot
As with the name of the laptop, the ZenBook 13 does have, well, a 13-inch display with a Full HD resolution. The display is near bezel-less with some sides being around 1cm thick.
The display itself is good, with near-accurate colors, decent contrast, great sharpness, and great display in different viewing angles. Some backlight bleeding can be seen, though, when it's just one color being displayed on the panel. The brightness, too, suffers as it isn't much legible under a high noon oudoors, but is great for working indoors even on places with low ambient to dark lighting.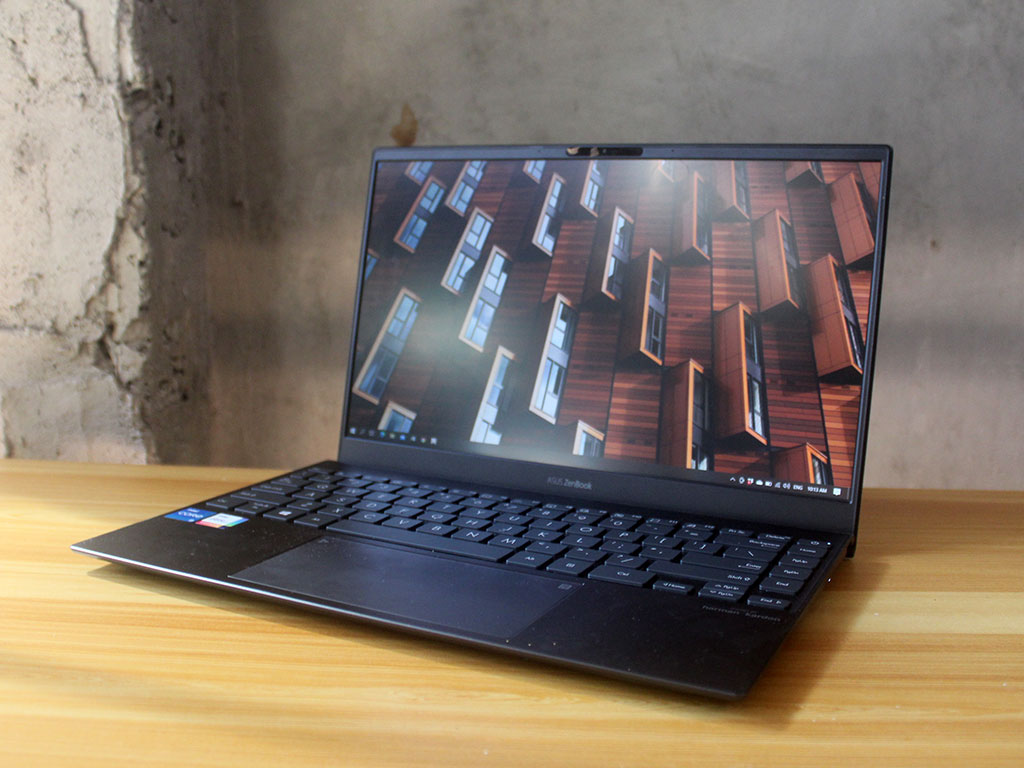 Despite the thinness of the bezels, they were still able to place a 720p resolution camera for videoconferencing needs. It also doubles as the laptop's security by utilizing Windows Hello for login, and it works well even in ambient conditions.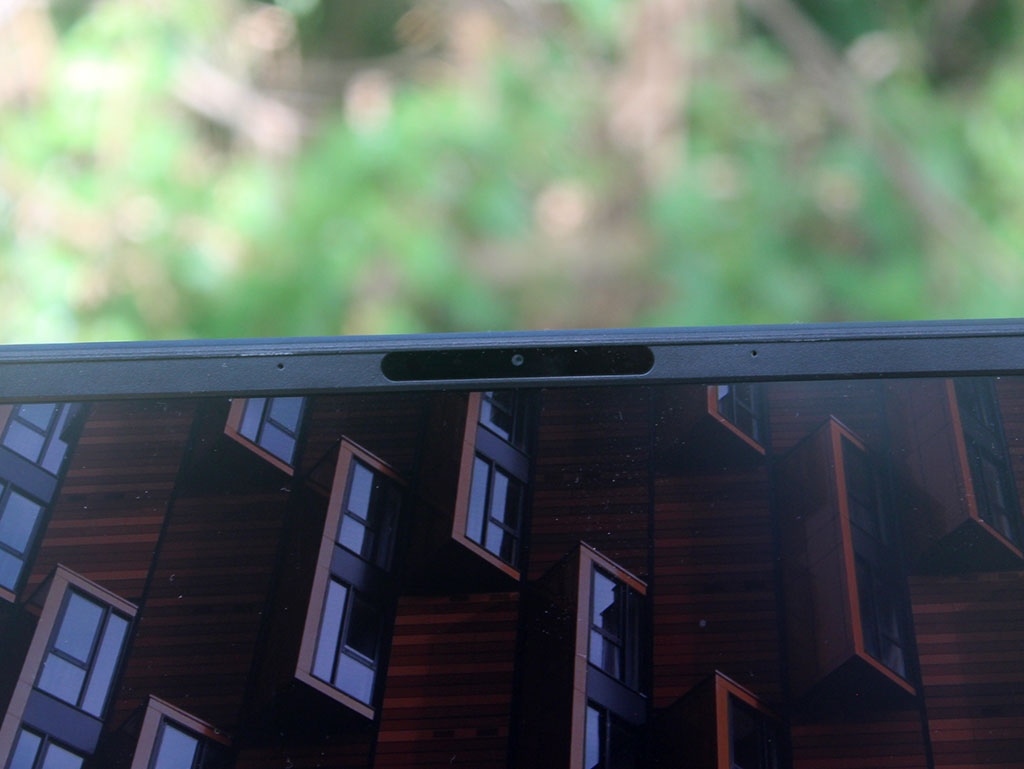 Multimedia experience on the laptop is good. It sports a Harman Kardon-certified audio system with the ASUS SonicMaster stereo audio system, coupled with a Surround-sound, Smart amplifier, and an array microphone that supports Cortana and Alexa. The speaker, on its loudest volume, can easily make noise in a mid-sized quiet room without many distortions. The audio produced were generally okay, but you can hear tinny sounds when the volume's set at maximum.
Using wireless audio isn't bad due to the Bluetooth here, but you'll get a lot of time taking used to the absence of a wired 3.5mm audio port. You'll need to bring a dongle if you need wired audio goodness, which I don't really mind.
Smooth-sailing performance
This laptop is one of the first launched in the country to sport the newest 11th-generation Intel Core chips, in this case, a Core i5 with onboard Intel Iris Xe graphics. It also has 8GB of RAM, and 1TB of NVMe SSD for storage, with Windows 10 Home as its operating system. Booting up the device is flawless and takes only seconds from pressing the power button to detecting my face for login.
I've used this laptop for writing stories here in the past few months, and I have not much experience with it so far. Performance, as I used it, was really good. I was able to finish my stories well without any hassle and lags. You'll start to experience them, though, when you have one too many on your browser.
Here are some benchmarks we took with the laptop:
• 3DMark – 2,356 (Fire Strike), 867 (Time Spy)
• Geekbench 5 – 1,431 (Single-Core), 5,121 (Multi-Core), 13,354 (OpenCL)
• Cinebench R20 – 1,720 (CPU), 443 (CPU Single-Core)
• CrystalDiskMark – 1,581.24 MB/s (Read), 984.31 MB/s (Write)
Using Photoshop on light tasks such as resizing and minimum retouches are smooth, but heavy usage isn't advisable due to the included RAM. I know it's not a gaming-focused laptop so playing games like Genshin Impact could render some slow frames and lags especially during huge co-op combats where effects are greater in number.
Wireless connections are good — from its WiFi 6 to Bluetooth 5.0 that we mainly used to connect wireless peripherals, they all work great.
Battery life is a winner
If there is one thing you can love about this laptop, it's the stellar battery life it brings. Despite the thinness of this laptop, it provides a long-lasting performance that is surely going to be a winner. Our average daily use from 100 to the time we feel we need a charger is at 13 hours, with activities mostly consisting of music playback, web browsing via WiFi and light Photoshop activities. A video loop playback gave us 16 hours and 12 minutes, which is very good.
Recharging isn't a problem, either. This featrures a 65-watt charger brick that's just as portable as the laptop itself. While it's small, we have a hard time retaining it in wall plugs because of its weight and form factor (a huge square brick). You'll need to plug the laptop at a floor-level socket to keep it stabilized.